NEWS
ICCEC 2017
The next International Conference Clinical Ethics & Consultation (ICCEC) will be hosted by the Centre for Biomedical Ethics, National University of Singapore. It will take place from May 24 to 27 2017.

More information will be available here soon.
Hans Joachim Schwager Award for Clinical Ethics 2017
Extended Deadline: December 31th, 2016 (resubmission possible)
The v. Bodelschwinghsche Stiftungen Bethel and the International Conference on Clinical Ethics and Consultation (ICCEC) are pleased to announce the next opening of the Hans Joachim Schwager Awardfor Clinical Ethics. Professor Schwager was a pioneer in clinical ethics support in Germany and a member of the Board of Directors of the v. Bodelschwinghsche Stiftungen Bethel, the sponsor of the Hans Joachim Schwager Award.
The Award will be given annually in the amount of 5,000 Euros to encourage individuals and groups engaged in clinical ethics support to communicate their experiences, achievements, and challenges to a larger audience and to support clinical ethics practitioners who have successfully implemented ethical consultation in healthcare facilities.
Award winner 2016: Prof. Silviya Aleksandrova-Yankulovska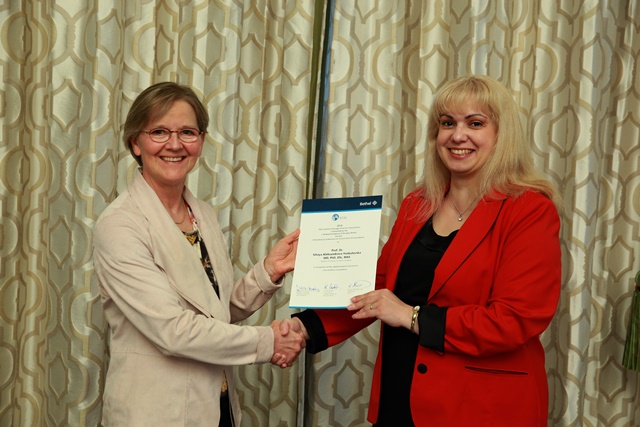 The winner, Prof. Silviya Aleksandrova-Yankulovska, and the Jury President, Prof. Stella Reiter-Theil,
Washington D.C. May 18, 2016.
BACKGROUND

This series of conferences was started by George J. Agich and Stella Reiter-Theil to fill the significant gap that they perceived in the field between the explosion of clinical ethics, ethics committees, and ethics consultation services around the world and the relative lack of critical and academic discussion of the many practical, institutional, and ethical issues associated with this work. Each conference is organized by a local host, who oversees local arrangements. An international program committee oversees the development of the program, including setting the program theme and overseeing reviews of abstracts.